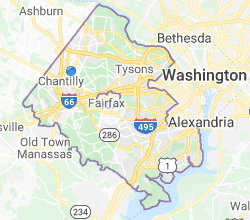 Are you a Fairfax County home owner that needs concrete and masonry work completed on your property?
Wright's Concrete is a licensed concrete and stone contractor that operates in Fairfax County, Virginia.  Mr. Wright has been in business for over 30 years.  Prior to starting Wright's Concrete, he worked for Fairfax County as a mason. Our facility is located Haymarket, Virginia although we service most of the Northern Virginia area including Loudoun County and Prince William County.
Call Us at (703) 615-2159 For A Free Estimate
Wrights Concrete provides you with exceptional workmanship that will improve your home's appearance. Our family-owned company offers full service masonry to home owners in the Northern Virginia area. We provide services to the entire county of Fairfax Virginia including the towns of Herndon, Chantilly, South Riding, McLean, Reston, Springfield, Clifton, Burke, Annandale, Vienna and Newington.
Residential Services Offered In Fairfax County
Give your family and friends a reason to go outside and enjoy each other's company. A new brick or flagstone patio or porch provides the perfect gathering area for all occasions.  We specialize in creating patios, driveways, garages, walkways and retaining walls.
We can build or repair the following projects.
Flagstone Patios
Driveways
Sidewalks/Walkways/Steps (brick/flagstone)
Stoop/Porch
Retaining/Sitting Walls
Custom Brickwork
Steps
Garage Floors
Foundation/Footers
Carports
Pool Decks
Repair (Chimney, Resurfacing, Repaving)
Benefits of Using Wright's Concrete for your Project
We are Licensed and Insured
We have over 30 years in the Concrete and Stone business
We use high quality 4,000 PSI concrete
We offer a Senior Citizen discount
We provide High-quality work at affordable rates
We offer group and builder discounts for large masonry and concrete projects
Materials That We Use to Build Your Dream Project
Wright's Concrete can build your project out of a variety of materials.  We primarily use concrete, brick, exposed aggregate and flagstone (i.e., Pennsylvania Variegated Irregular, Pennsylvania Blue Pattern Blue, Tennessee Buff, Western Dark Orchard or any other flagstone  of your choice) in our projects.