Don't empty your wallet on concrete work that your home needs. When you contact Wright's Concrete, you will know that you are getting the quality work you want at a great price.
We use only high-strength concrete (minimum of 4,000 psi) to ensure you get a long lasting product.
Resurfacing your concrete area can reduce costs and increase the life of the concrete. This is an affordable solution to a new slab.
Concrete Patios
Patios define the outdoor experience for family recreation and entertaining. Think beyond a plain concrete base in a traditional shape. Let your imagination loose. We will work with you to design a patio that fits into your unique surroundings. Blend different surface finishes and materials to create a space that seems to grow from your environment. Adds walls and planters that support plants that provide both beauty and privacy. Supplement the patio with approaches that lure your visitors forward. Bring your plans and ideas and we can make them a reality.
Driveways and Carports
Simple driveways, side parking aprons and floors of garages and carports. We do them all. Plain concrete or bordered with brick or stone. Driveways with accompanying walkways, steps or retaining walls.
Pool Decks
We replace existing pool decks and work with pool contractors to design the new one of your dreams.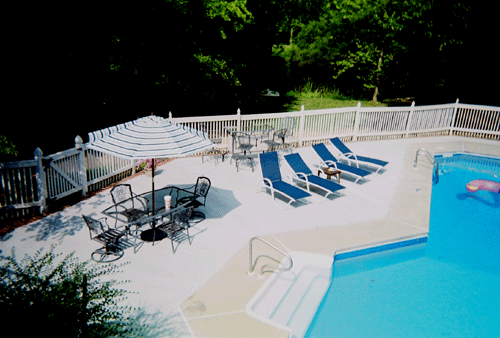 Consider an Aggregate Finish or Brick Border
An exposed aggregate finish on your patio, porch, walkway or driveway can add the extra dimension needed to make the area stand out. This look includes brick borders being laid linearly or perpendicular to the paved area.