Brick and Flagstone
All of our brick and flagstone surfaces are supported by a thick, firm concrete base. We do not recommend putting them on a sand base, as these tend to shift and heave over time.
We form and pour the area, then lay the brick or stone on a bed of mortar. When that is dry, we then hand mortar and finish the joints for a clean, smooth appearance. This type of surface will stand up very well against the repeated freeze and thaw cycles of the Northern Virginia area.
Porches
Front porches announce a house's welcome to visitors. Make yours exceptional. We offer a variety of materials to give your entrance a grand formality or a cozy down-home appeal. Our designs can accommodate a variety of terrain and elevation difficulties.
Exposed Aggregate
An exposed aggregate finish can add another dimension to your walkway and patio surfaces. It provides a visually pleasing and varied surface that works well in small spaces and within heavily landscaped areas.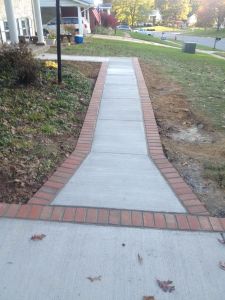 Brick Borders
Brick borders, laid linearly or perpendicular, are a signature feature of our company.
They give the walkways and patios a pleasant transition from the wider surface finishes to the landscaping surrounding them.
Flagstone
Thin and flat, flagstone is a true classic available in dimensional and irregular varieties. It can be installed in dry or wet applications including walkways, patios and pool decks.
Pennsylvania Bluestone is a dense, strong, fine-grained sandstone quarried in the northeastern United States, mostly in Pennsylvania and upstate New York.