Driveways and Pool Decks
from Wright's Concrete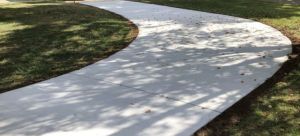 Simple driveways, side parking aprons and floors of carports. We do them all. Plain concrete or bordered with brick or stone. Drives with accompanying walks, steps or retaining walls.
When we begin a job, we try to make the least possible impact upon your site. We carefully extract old concrete/material and set framing while working from within the footprint of the new construction as much as possible.
When mechanical equipment is used for a job, we use small "Bobcat" units. These maneuverable machines can work within the footprint of the job and not damage nearby plantings and other owner features.
Add Dimension to your Driveway
An exposed aggregate finish on driveways, walkways, or patios can add the extra dimension needed to make the area stand out. This look includes brick borders being laid linearly or perpendicular to the paved area.
Pool Decks
We replace existing pool decks and work with pool contractors to design the new one of your dreams.
You may also be interested in some of our other services like patios/porches, garages/carports, sidewalks/walkways and retaining walls.
We are quite pleased with our new driveway, walk and porch. It looks great and has attracted a lot of attention from our neighbors. I think some of them will be contacting you with their own projects. Your crew was very professional, pleasant and quick. And thank you also for working within our schedule to have the work done.