Sitting and Retaining Walls
from Wright's Concrete
Sitting and Retaining Walls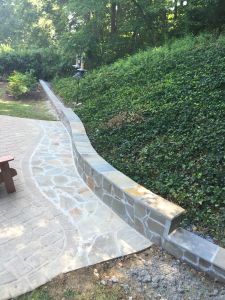 Add a decorative wall to any space on your property by using high-quality natural stones. All stones will be embedded into a layer of concrete to secure the bonding. Walls can be designed to go around existing flower beds, trees, and any other landscaping.
Durable Walls Built for All Purposes
All our walls have a strong concrete base to ensure the walls' stability and durability. Iron rebar may be used on taller walls to add the extra support needed for the additional material.
Choose your Ideal Material for your Wall
Walls can be built using various materials, but the base of each wall will be high PSI (4,000) concrete.
Brick
Slate
Flagstone
Poured concrete
Designer block
Install new Masonry Walls
Design the walls you need on your property and improve your home's curb appeal.
Retaining walls
Border walls along walkways or steps
Property line walls
Straight or curved design
You may also be interested in some of our other services like patios/porches, sidewalks/walkways, garages/carports and driveways.