Patios and Porches
from Wright's Concrete
Give your family and friends a reason to go outside and enjoy each other's company. A new concrete, brick or flagstone patio or porch from Wright's Concrete provides the perfect gathering area for all occasions.
Patios define the outdoor experience for family recreation and entertaining. Think beyond a plain concrete base in a traditional shape. Let your imagination loose. We will work with you to design a patio that fits into your unique surroundings.
Blend different surface finishes and materials to create a space that seems to grow from your environment. Adds walls and planters that support plants to provide both beauty and privacy.
Supplement the patio with approaches that lure your visitors forward. Bring your plans and ideas and we can make them a reality.
Add Dimension to your Patio or Porch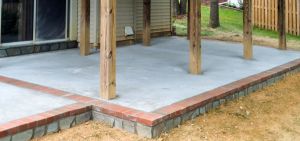 An exposed aggregate finish on your patio, porch, walkway or driveway can add the extra dimension needed to make the area stand out. This look includes brick borders being laid linearly or perpendicular to the paved area.
Create a Unique Outdoor Living Space
Complete you outdoor living space with a brand new paved area.
Patios
Porches
Concrete, Brick and/or Flagstone materials
Exposed Aggregate Finish
Brick Borders
You may also be interested in some of our other services like garages/carports, driveways, sidewalk/walkways and retaining walls.